DUY TRUNG GARMENT FACTORY WAS AWARDED LOTUS SILVER CERTIFICATION OF INDUSTRIAL BUILDING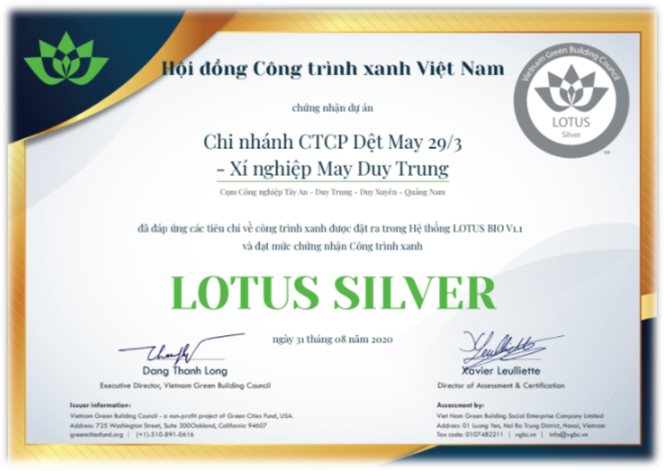 Certificate Date: August 31, 2020
Building type: Industrial Building
Green building rating systems: LOTUS BIO v1.1
Gross Floor Area (except for parking): 4.300 m²
LOTUS AP: GreenViet Consultancy Co., Ltd.
HACHIBA is conscious that partner companies give priority to cooperate with environmentally friendly factories.

HACHIBA wants our products to have more effective approaches to consumers who increasingly appreciate eco-friendly products.

This direction is suitable for HACHIBA's sustainable development strategy. Particularly, the weather in Central Vietnam, the location of HACHIBA's plants, is really severe with many hurricanes, and large-scale storms happening annually, therefore the manufacture should have little influence on the environment. In addition, environmental and air pollution in Vietnam is gradually becoming a national issue, so the development of a green factory would bring about greater significance.
After approximately 9 months of researching LOTUS green factory requirements of Vietnam Green Building Council, with the support of GreenViet consultancy and proficient engineers of mechanical, electrical, and environmental fields, on August 31, 2020, Duy Trung Garment Factory was officially recognized as the second project of Vietnam that successfully applied and obtained LOTUS Green Building Certification for the project in operation, and First LOTUS green building project of Quang Nam province.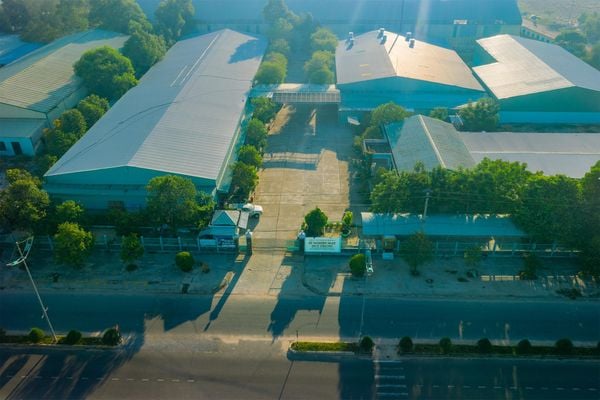 Several green solutions:
To obtain LOTUS Green Building Certification, a variety of solutions have been implemented to meet the requirements of the LOTUS BIO Rating System:
Install energy-efficient air-conditioning systems (COP coefficient improves by 31% compared to requirements in QCVN 09:2013/ BXD)

The lighting power density is reduced by 35.38% compared to the requirement of QCVN 09:2013/ BXD.

The 10 kWp solar system provides 3.1% of the plant's total energy consumption.